St. Luke's performs first Transoral Robotic Surgery in PH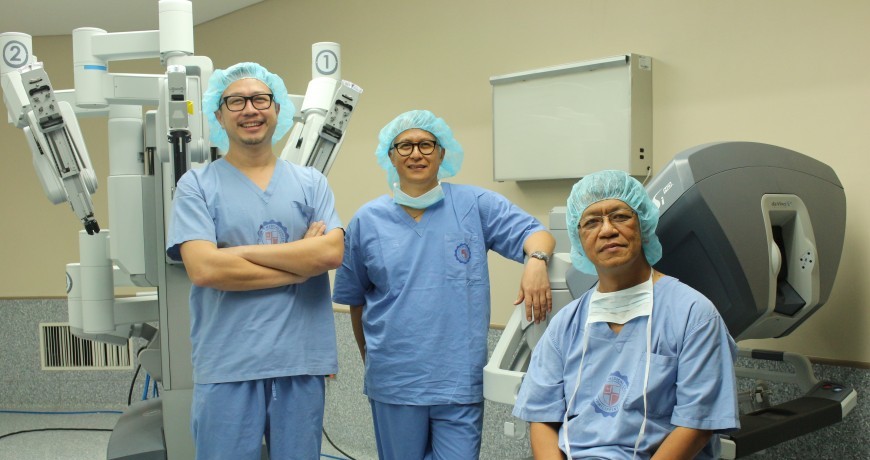 A team of ENT-HNS doctors recently performed the first transoral robotic surgeries in the Philippines on three patients at St. Luke's Medical Center-Global City using the third generation da Vinci Si robotic surgical system. Transoral robotic surgery or TORS is indicated for patients who have tumors of the oral cavity, pharynx and larynx. It is also used to address obstructive sleep apnea (OSA).
Unlike traditional or open surgery, TORS does not involve cutting of the jaw or the tongue in order for a surgeon to access hard-to-reach areas such as the base of the tongue and hypopharynx. It also allows surgeons an enhanced field of visualization (up to 10x magnification), enabling them to see a target tumor up close and avoid unnecessary cuts to nerves or arteries. Compared also to transoral laser surgery where a laser beam just aims through line of sight or straight line and cannot reach deep into the throat, robotic instruments easily enter the mouth and throat without cutting and provide a wider range of motion, twisting and turning just like the human wrist. This enables the surgeon to excise an entire tumor that is even located in deeper areas.
According to Dr. William Lim, head of the Department of ENT-HNS at St. Luke's-Global City and a transoral robotic surgeon, "With TORS, there is no external scar, and the patient enjoys a shorter hospital stay and faster recovery. Post-operatively, there is also less pain and discomfort."
Conditions that may be addressed with TORS include tonsillar cancer, tongue cancer, pharyngeal and hypopharyngeal cancer, supraglottic laryngeal carcinoma and sleep apnea syndrome.
To date, St. Luke's Medical Center has performed over 600 successful robotically-assisted surgeries for urologic, gynecologic and general surgery cases. Members of its Transoral Robotic Surgery team include Dr. William Lim, Dr. Benjamin Campomanes and Dr. Keith Aguilera. With this new robotic procedure offered at St. Luke's, it is hoped that this approach will give patients another treatment option which will result in less trauma, faster recovery and eventually, better quality of life.
For inquiries on transoral robotic surgery (TORS), contact the St. Luke's Minimally Invasive and Robotic Surgery Center at (632) 7230101/0301 ext. 5545 or [email protected] (St. Luke's-Quezon City), and (632) 7897700 ext. 1160 or [email protected] (St. Luke's-Global City).
---