St. Luke's Doctors Receive 100% Passing Rate on Licensure and Specialty Board Exams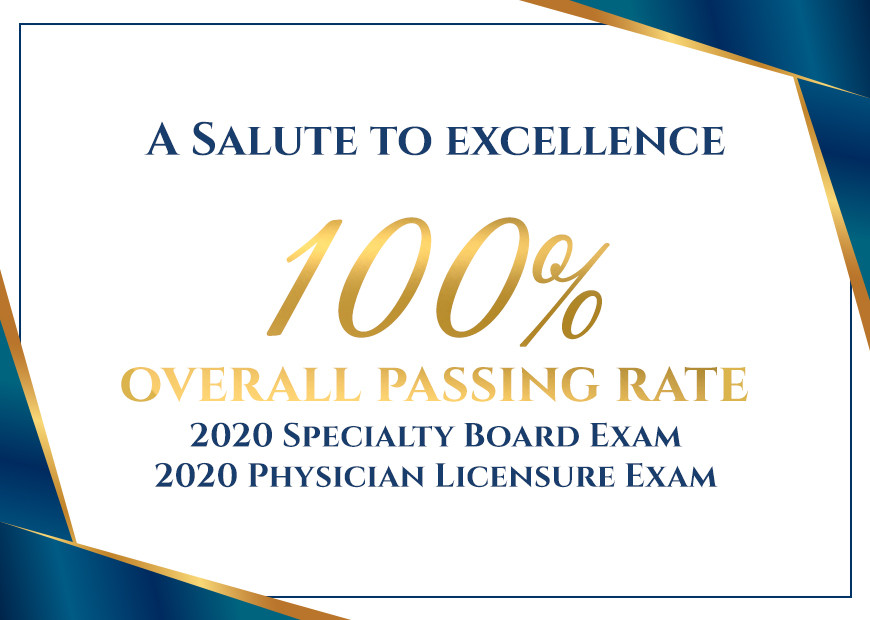 St. Luke's Medical Center (SLMC) continues to be a beacon of world-class healthcare excellence in the Philippines.
SLMC doctors (Residents and Fellows), as well as the graduates of St. Luke's Medical Center College of Medicine - William H. Quasha Memorial garnered a 100% passing rate in the Specialty Board Exam and Physician Licensure Examination, respectively.
Where great doctors begin
St. Luke's Medical Center College of Medicine - William H. Quasha Memorial, which has recorded an outstanding performance on the Philippine Medical Boards since 2009, produced 73 new doctors during the November 2020 Physician Licensure Exam.
Since the school's opening, the medical school has produced 16 Top 10 board passers, including Dr. Gregory Dennis Fundales Idago, who gained the Top 5 spot at the March and September 2020 Physician Licensure Examination.
The best training ground
The residents and fellows of St. Luke's Medical Center have completed the recent 2020 Specialty Board Examinations, recording a 100% overall passing rate for both the training and diplomate programs. Among the units that contributed to the passing rate, are as follows:
St. Luke's Residents from:
QUEZON CITY:
Anesthesiology
Dermatology
ENT - EHS
Medicine
Neurology
OB - Gynecology
Pathology
Radiation Oncology
Radiology
Urology
GLOBAL CITY:
Internal Medicine
Nuclear Medicine
Radiology
St. Luke's Fellows from:
QUEZON CITY
Cardiology
Echocardiography
Endocrinology, Diabetes & Metabolism
Gastroenterology
Hematology
Nephrology
Pulmonary Medicine
Rheumatology
Maternal Fetal Medicine
OB - Gyne Ultrasound
Pain Medicine
Vascular and Interventional Radiology
GLOBAL CITY
Adult Cardiology
Digestive and Liver Diseases
With the mission to provide compassionate, patient-centered care to all its patients, St. Luke's continues to put the needs of its patients first by providing excellent healthcare upfront for over 117 years.
---