St. Luke's-Global City performs first robotic lung resection in PH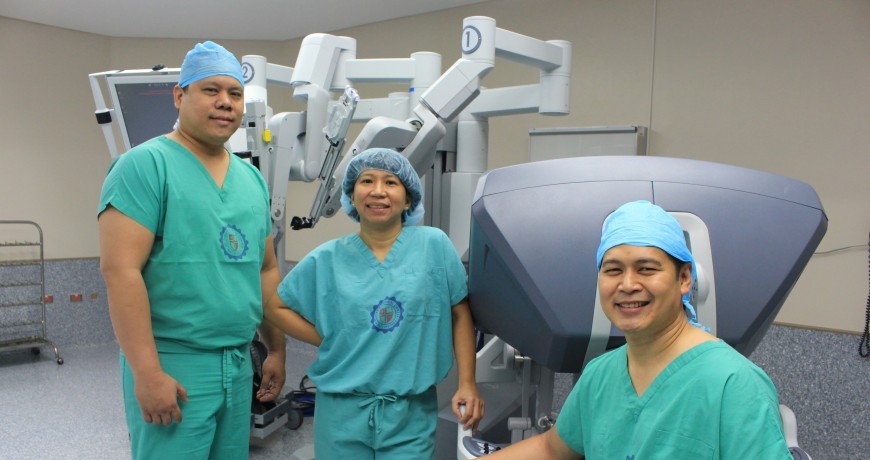 A team of robotic thoracic surgeons from St. Luke's-Global City recently performed the country's first robotic lung resection on a 61 year-old female patient who was discovered to have a 3.5 centimeter mass in the left upper lobe of her lungs. After doing an extensive work-up including a PET/CT scan, the mass was suspected to be malignant. Resection of the left upper lobe of the lung with complete mediastinal lymph node dissection was performed using the third generation da Vinci Si surgical system, the only robotic surgical machine of its kind available in the Philippines.
The surgical team was headed by Dr. Edmund E. Villaroman, and assisted by Dr. Karlos R. Aleta and Dr. Mariam Grace A. Delima. All three surgeons are pioneers in advanced minimally invasive thoracic surgery in the Philippines. They have had extensive training in video-assisted thoracic surgery as well as robotic surgery in various institutions locally and abroad.
After surgery, the patient had a quick recovery and minimal postoperative pain. "The chest tube of the patient was removed on the third day and was discharged on the fifth day" said Dr. Villaroman. "She was not taking any more pain medication after a week and she was quickly able to resume to her usual activities" he exclaims.
Traditionally, patients who are to undergo lung resection are given the option of either open surgery or video-assisted thoracic surgery (VATS). Open surgery requires forcefully opening the space in between the ribs to gain access to the chest cavity. The trauma to the chest wall and even the possible rib fracture it creates results in severe postoperative pain, longer recovery and greater possibility of complications including pneumonia. VATS on the other hand is performed using 1 to 4 small port incisions and utilizes 2-dimensional imaging and long endoscopic instruments. A major limitation of VATS is the difficulty in maneuvering these long instruments with limited articulation, thereby putting a lot of trauma to the port sites. According to Dr. Villaroman, "VATS, similar to other endoscopic surgeries, is like operating using chopsticks through a bento box with small holes". This is the reason some patients complain of persistent dull pain weeks or months after surgery. Compared to VATS, robotic thoracic surgery might require an additional port incision but the blunt trauma to these incisions is far less than in VATS.
Apart from lower incidence of pain, robotic surgery also offers other advantages. Dr. Villaroman explains, "Robotic surgery is beneficial in performing surgeries in a confined space like the chest. The da Vinci Endowrist technology provides a wider range of motion than the surgeon's hands. Complex procedures can therefore be performed precisely even in hard-to-reach areas not normally accessible by the hand or even with laparoscopic instruments. Furthermore the 3D HD camera provides unparalleled clarity, depth of vision and 10x magnification resulting in better surgical precision. "Robotic thoracic surgery is like having surgeon's eyes and not two, but three small little hands inside the chest of the patient. What can be more ideal than that?" he adds.
According to Dr. Villaroman, "Patients today are well informed and often use the internet for added health information. They seek out the best treatment option with the least invasive approach and performed using the most advanced technology. Dr. Aleta further states that "The demand for robotic surgery is steadily increasing worldwide. We foresee the future of thoracic surgery as a merger of surgical innovation and advanced robotic technology". Dr. Delima adds that "What seems to be a futuristic procedure seen only in science fiction movies is actually here now at St. Luke's Medical Center."
Other thoracic conditions that can be done robotically include thymectomy (removal of the thymus), esophagectomy (removal of the esophagus) and removal of other chest tumors. Patients in the Philippines, therefore, would be glad to know that they need not go abroad to seek this kind of minimally invasive procedure. To date, St. Luke's-Global City has performed more than 500 robotic procedures on urologic, gynecologic and general surgery cases with excellent outcomes.
For more information on robotic surgery, contact the St. Luke's Minimally Invasive and Robotic Surgery Center at (632) 7230101/0301 ext. 4192 (Quezon City) and (632) 7897700 ext. 2116 (Global City) or email [email protected] or [email protected]
---