St. Luke's Unparalleled Technology And Expertise
Robotic Surgery
Until the recent past, surgery has always been considered by most patients as a very traumatic, painful and life-changing procedure. Minimally Invasive Surgery (MIS), a highly-specialized technique that offers great patient benefits such as minimal pain, less trauma, less hospital stay, faster return to work or activity and minimal or virtually no scar, has been commonly used for diseases and conditions in most surgical specialties.
At St. Luke's Medical Center, a new technique called Robotic Surgery is being used to enhance the capabilities of surgeons in operations of certain organs with limited maneuverable space. These procedures are carried out and manipulated using robotic end-effectors with the surgical instruments at the end of four robotic arms inside a specific body part after a small incision. This technology is used in urologic, gynecologic, ENT-HNS, and after general surgery cases. Thus far, St. Luke's Medical Center has already performed over 800 cases of Robotic Surgery.
Advanced Gastrointestinal Endoscopy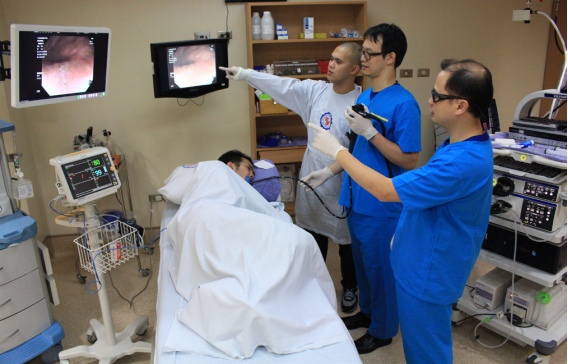 Most cancers like colon, esophageal and stomach cancer originate from the innermost lining (mucosal surface) of the gastrointestinal tract. Early diagnosis is the key to prevent these diseases. This requires highly advanced endoscopes which are equipped with lenses capable of ultra-high definition imaging for easier identification of small polyps which may otherwise be missed by regular endoscopes.
St. Luke's Medical Center - Global City houses the country's first Center for Advanced Gastrointestinal Endoscopy under its Institute of Digestive and Liver Diseases. This is an advanced gastrointestinal diagnostic and therapeutic center that is able to diagnose and treat upper and lower gastrointestinal (GI) diseases using state-of-the-art technologies from Japan. Among the procedures performed in the Center are Endoscopic Mucosal Resection (EMR) and Endoscopic Submucosal Dissection (EMD). Both procedures allow the endoscopic removal of larger and deeper polyps or lesions instead of removing these through open surgery.
Transcatheter Aortic Valve Replacement (TAVR)

In the past, Aortic Stenosis (AS), a disease of the heart valves in which the opening of the aortic valve is narrowed, required open heart surgery and valve replacement. However, this type of surgery is not the best possible option for patients who have complex or multiple medical issues, and therefore are prone to complications following open surgery.
This problem is eradicated with the Transcatheter Aortic Valve Replacement (TAVR) procedure, a method first made available in the Philippine setting by St. Luke's Medical Center. TAVR is a minimally invasive technique designed to replace diseased aortic valves. During the procedure, a bioprosthetic valve is implanted through a catheter which is usually inserted via small incision in the femoral artery at the groin area. Guided by x-rays and ultrasound, the catheter is then sent to the diseased aortic valve and once in the position, the bioprosthetic valve is deployed. St. Luke's Medical Center has already reached the 100 patient medical milestone for TAVR. Thus far, it is ranked third in Southeast Asia for the most number of TAVR procedures performed in the region, next only to two hospitals in Singapore.
Stroke Service (Brain Attack Team)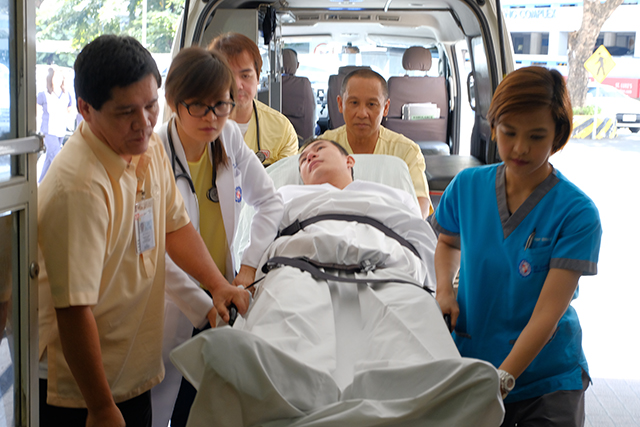 Stroke or "brain attack", is the event when a blocked artery or ruptured blood vessel interrupts blood flow to an area of the causing the death of brain cells, thereafter affecting an individual's speech, strength, sensation, or memory. In order to minimize damage and prevent permanent disability from taking place, victims must be brought to the nearest stroke care facility as soon as possible. However, given the uncertain and uncontrollable circumstances of stroke, this may not guarantee the safe, quick recovery of the patient.
At St. Luke's Medical Center - Global City, the spontaneous occurrence of stroke is resolved with the Brain Attack Team (BAT), the first of its kind to be globally-recognized and accredited by the Joint Commission International. Organized to ensure the correct and rapid treatment of stroke, the BAT is alerted by the brain attack alarm and spurred into motion guided by a strict timetable. The BAT is composed of Neurology and Neurosurgery Stroke Consultants, Stroke Fellows, Stroke Nurses, Emergency Department Doctors, Radiology Consultants, and Endovascular Specialists, allowing this unit to incorporate a multidisciplinary approach to stroke care, thus reducing disability and stroke recurrence.
STEMI Team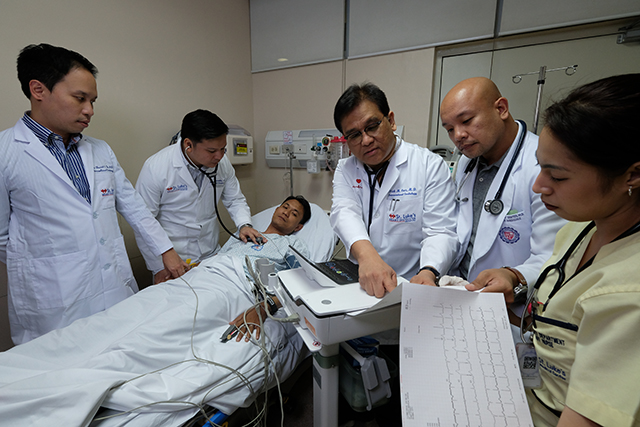 One of the leading causes of morbidity and mortality is the ST Elevation Myocardial Infarction (STEMI). It is a heart attack that occurs when one of the heart's major arteries is blocked. The key point with this condition is time. There is a direct correlation between the amount of time a heart artery is blocked and the severity of the heart attack and odds of survival. Treatment usually involves "clot-busting" drugs or with a primary percutaneous coronary intervention (PCI), also known as an angioplasty.
With the demand for a rapid medical response team, St. Luke's Medical Center - Global City pioneered the STEMI Team to address the needs of STEMI patients. This team comprises of Emergency Physicians and Nurses, Coronary Care Unit nurses, Cath Lab staff, and committed Interventional Cardiologists, all of whom collaborate in order to adhere within international standards (including response time) and increase survival in individuals suffering from this attack.
Hyperthermic Intraperitoneal Chemotherapy (HIPEC)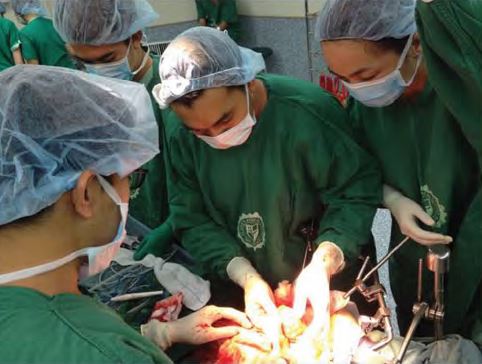 Peritoneal carcinomatosis, a rare type of cancer that affects the thin layer of tissue surrounding the organs (peritoneum) in the abdomen area, used to be considered an untreatable condition for many years. This was due to the fact that complete surgical removal of the cancerous cells in the peritoneum is almost impossible and systemic chemotherapy delivered intravenously is ineffective.
At St. Luke's Medical Center, a gold standard in the modal treatment of peritoneal cancer called Hyperthermic Intraperitoneal Chemotherapy (HIPEC) was made available to address this particular difficulty. HIPEC is the treatment protocol that involves the delivery of highly concentrated, heated chemotherapy directly to the peritoneum and the abdomen during cytoreductive surgery. With it, chemotherapy is directly delivered to the cancer cells in the abdomen, allowing higher doses of the treatment to the area of concern.
Organ Transplantation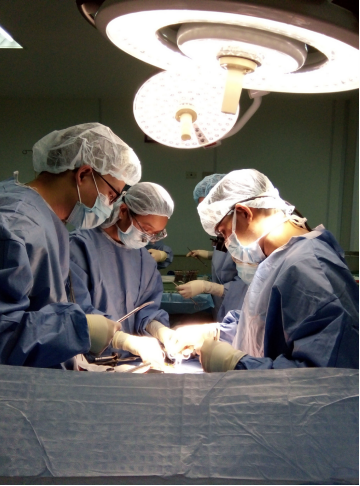 Around the world, people are dying while waiting for organ transplantation. Organ donation rates in Asia, especially here in the Philippines, are much lower than those in the United States and Europe. Driven by the limited number of organ donation, various organ procurement and donation programs have been developed by different organizations.
St. Luke's Medical Center - Global City responds to this global predicament by establishing its Center for Organ Transplantation. The center performs both living and deceased organ transplantation procedures with survival rates at par with international outcomes reported by the best centers around the world. Being the first private hospital in the Philippines to be accredited by PhilHealth for the Z Package, organ transplantation at St. Luke's have now become more affordable and accessible to more Filipinos.
Cryoballoon Ablation
Atrial Fibrillation (AF) is the irregular and rapid movement of the atria. It is the most common clinically significant abnormal heart rhythm that can lead to stroke, heart failure, death, and hospitalization. Persons with advanced age, hypertension, diabetes mellitus, coronary artery disease, heart failure, valvular heart disease, chronic kidney disease, obstructive sleep apnea, and familial predisposition are at risk for having AF. Traditionally, medication is used to manage AF, although this has limited impact on the condition and may have debilitating side effects. This is why procedures like ablation, the scarring or destruction of tissue in your heart that may be causing abnormal heart rhythm, are commonly utilized.
In order to provide a safer, faster alternative to medication and the typical ablation procedure, St. Luke's Medical Center - Global City acquired a CryoConsole System - the first of its kind in the Philippines. Operated by Cardiac Electrophysiologists, the Arctic Front Advance™ Cardiac Cryoballoon Ablation System enables the minimally invasive practice of catheter ablation for AF patients. This unique, state-of-the-art system makes it possible for the patient to resume regular activities within two weeks, as opposed to the longer recovery time required by normal catheter ablation.
Stereotactic Body Radiotherapy (SBRT)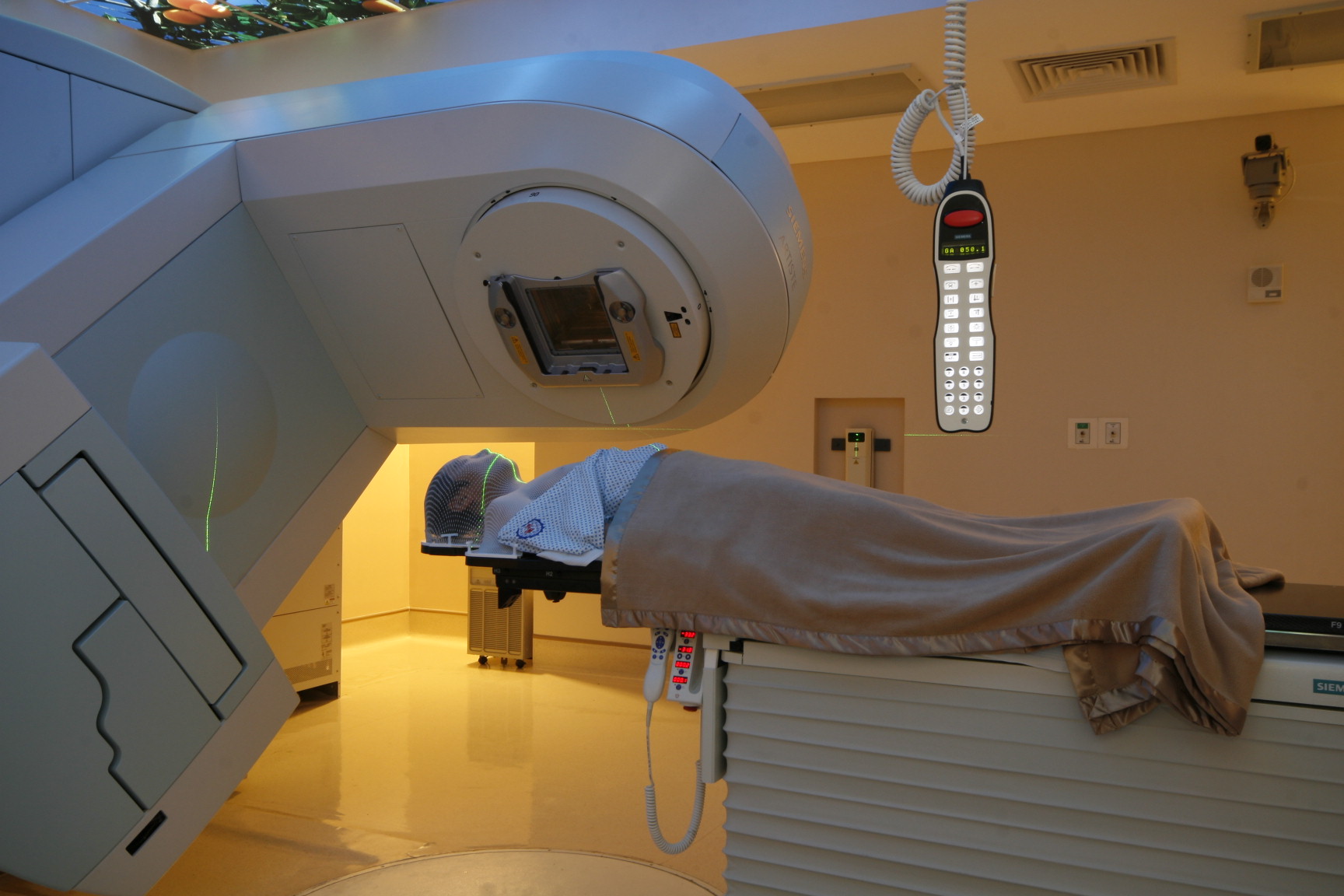 Stereotactic Radiosurgery (SRS) is a non-invasive option for patients with tumors requiring difficult surgical approach or those with medical comorbidities not fit for surgery. It uses precise, highly focused radiation beams to treat tumors and vascular malformation in the brain while minimizing radiation dose to surrounding normal structures. When SRS is used to treat tumors outside the brain (e.g. spine, lung) it is called Stereotactic Body Radiotherapy (SBRT).
The Department of Radiation Oncology St. Luke's-Global City was the first institution in the country to perform SBRT. Because of their vast experience and expertise in doing SRS, it was easy for the department to adapt SBRT. In addition, The Department of Radiation Oncology St. Luke's-Global City has performed the most cases of Spine SBRT in South East Asia. They have treated over 20 Spine SBRT cases and have published their data and have presented their cases to various conferences in the region. In the last quarter of 2017, the Department of Radiation Oncology is set to acquire a Varian True Beam machine, which will further enhance their SBRT capabilities.
---
St. Luke's Medical Center - Quezon City
279 E Rodriguez Sr. Ave,
Quezon City, Philippines
St. Luke's Medical Center - Global City
Rizal Drive cor. 32nd St. and 5th Ave
Taguig City, Philippines