St. Luke's offers 15% discount for prostate cancer prevention procedures
In support of Men's Health Awareness Month, the Institute of Urology of St. Luke's Medical Center will provide a 15% discount for its prostate cancer prevention procedures in both hospitals at Quezon City and Global City.
The promo will last from June 14 to July 14, 2021. Patients who settled payments within the promo period can schedule their appointment up until August 31, 2021.
The 15 percent discount will focus on three prostate cancer prevention procedures in particular. These procedures are the Prostate-Specific Antigen (PSA) test, Prostate MRI, and the MRI Fusion Biopsy. Both PSA test and Prostate MRI are available in Quezon City and Global City, while the highly advanced MRI Fusion Biopsy procedure is only available in Global City.

These three procedures can accurately detect prostate cancer early on, and are open to all eligible men for prostate cancer screening. Men who are aged 45 to 75 years old are highly encouraged to do a screening procedure — even without symptoms of prostate cancer. Other men eligible are those with a family history of cancers or prostate diseases.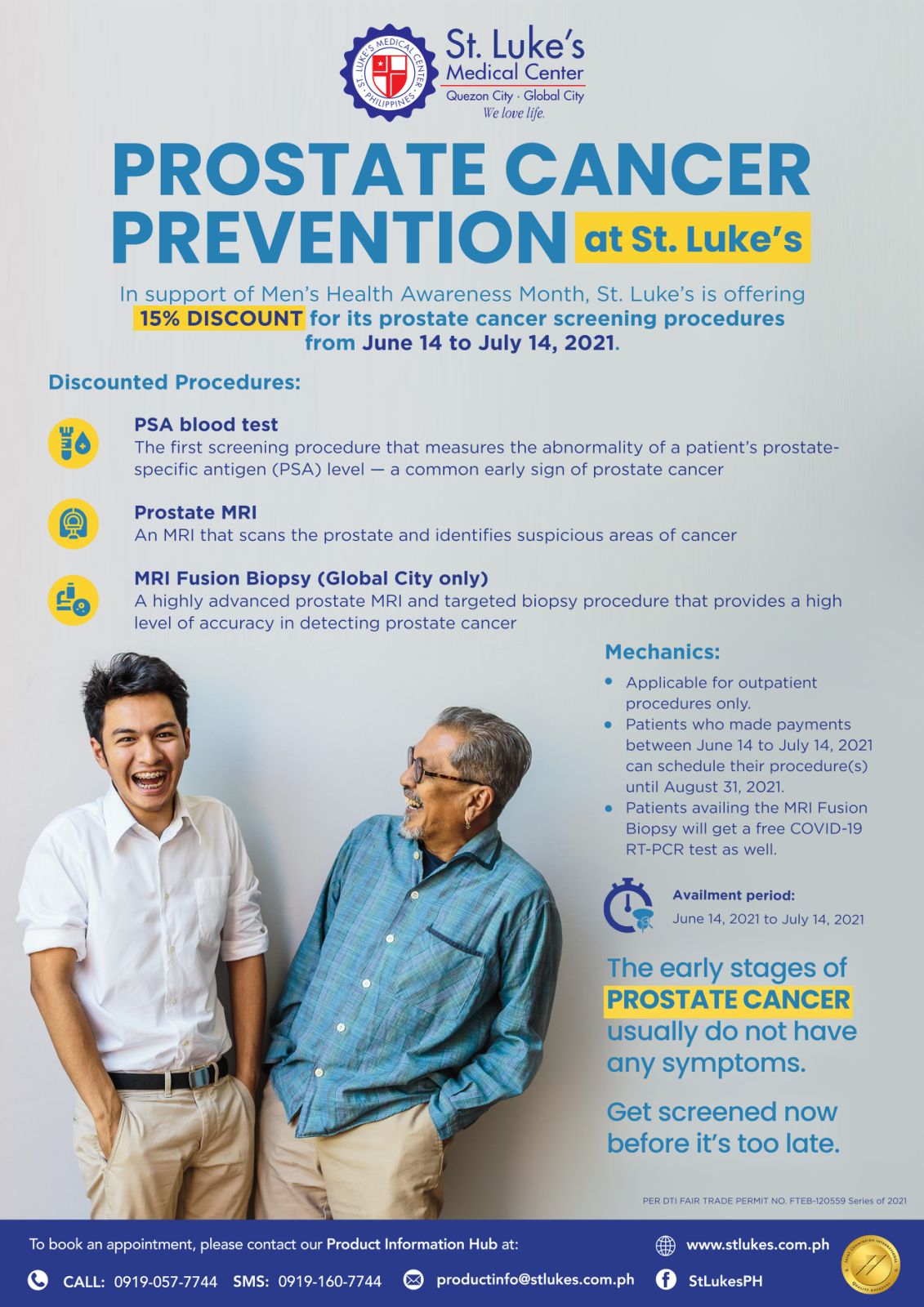 A simple PSA blood test will show any abnormalities in the patient's PSA levels — a common early sign of prostate disease. The more advanced procedures such as Prostate MRI and MRI Fusion Biopsy may be recommended as well depending on the evaluation of St. Luke's highly-trained urologists.

Prostate cancer is the third most common cancer among men in the Philippines, affecting roughly 12 percent of the entire male population in the country. One of the difficulties in treating prostate cancer is its lack of symptoms during its early stages. Affected men tend to not know they have cancerous areas in their prostate, allowing cancer cells to spread and develop.
St. Luke's prostate cancer prevention procedures offer advanced and accurate detection of prostate cancer. Through the promo, the hospital strives to encourage more eligible men to undergo a screening procedure — empowering them to have a fighting chance against prostate cancer before it's too late.


To book an appointment in St. Luke's Global City, please contact the Product Information Hub through the following numbers:
CALL: 0919-057-7744
SMS: 0919-160-7744
EMAIL: [email protected]
---
St. Luke's Medical Center - Quezon City
279 E Rodriguez Sr. Ave,
Quezon City, Philippines
St. Luke's Medical Center - Global City
Rizal Drive cor. 32nd St. and 5th Ave
Taguig City, Philippines