Revolutionizing Surgery with Robotics for Advanced Procedures
St. Luke's Medical Center is a leading institution in robotic surgery in the Philippines. Its adoption of the Da Vinci Surgical System is a testament to its commitment to providing the best possible care for its patients. As technology continues to evolve and improve, it is clear that robotics surgery will continue to play a significant role in the future of healthcare.
Robotic surgery is a game-changer in modern medicine, offering precision, accuracy, and minimally invasive nature that makes it a valuable tool for St. Luke's team of skilled surgeons. Patients can expect smaller incisions, less scarring, less pain, reduced blood loss, and a faster recovery time with our robotic-assisted surgeries. This means less time spent in the hospital and more time getting back to their daily lives.
Equipped with state-of-the-art technology and highly trained surgical specialists, St. Luke's offers Robotic-assisted Laparoscopic Prostatectomy, Robotic-assisted Myomectomy, and Robotic-assisted Hysterectomy. With more than 1,600 cases, St. Luke's takes pride in providing expertise in this surgical field in the Philippines.
St. Luke's All-in Robotic-assisted procedure package, priced at only Php 549,000.00, covers everything from room and board in the Robotic Surgical Ward to operating room and procedure fees, the use of robots and their consumables, and doctors' professional fees.
To learn more about our robotic-assisted surgical package and schedule a consultation with our experts, please contact St. Luke's Product Information Hub at 0919-0577744 (call), 0919-1607744 (SMS), or email us at [email protected].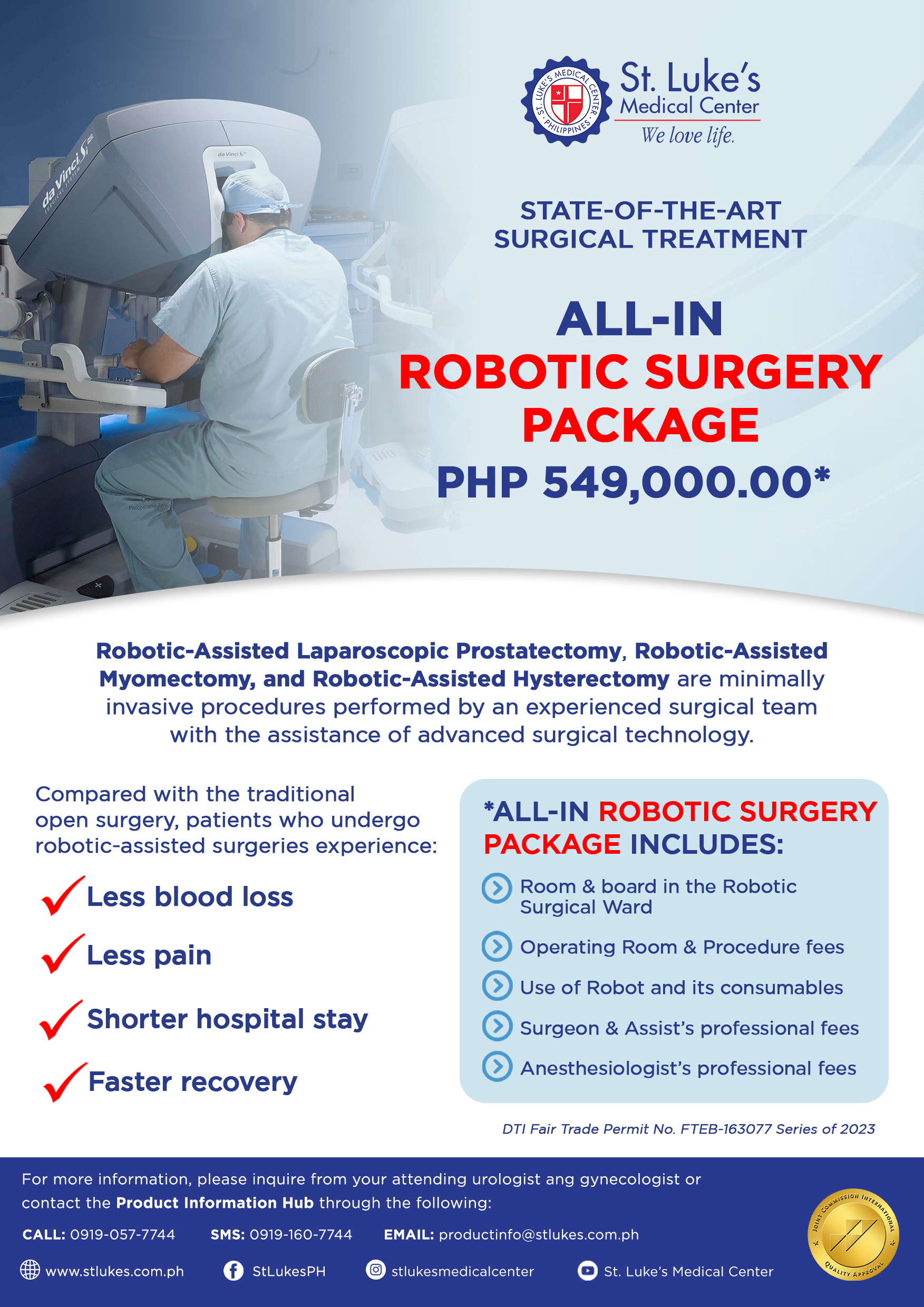 ---
St. Luke's Medical Center - Quezon City
279 E Rodriguez Sr. Ave,
Quezon City, Philippines
St. Luke's Medical Center - Global City
Rizal Drive cor. 32nd St. and 5th Ave
Taguig City, Philippines