Getting maternity care in time of pandemic
Giving birth during this time of pandemic can cause a lot of anxiety considering the uncertainty brought about by our situation. Assurance is what expectant mothers need to give them peace of mind and ensure that they will get safe and proper maternity care.
When choosing a hospital, questions like -- "Is the place safe?", "Will our medical needs be adequately provided?" come to mind. St. Luke's recognizes these concerns and understands how important they are, hence, they have prepared all that is necessary to provide a safe and equipped environment for mothers and their newborns.
Comprehensive maternity and pediatric services
Dr. Bernabe Marinduque, head of the Department of Obstetrics and Gynecology at St. Luke's Medical Center-Global City, emphasized the importance of getting a holistic maternal experience especially during this time of the pandemic. He said, "Expectant moms should have access to a wide scope of maternity services to be able to get the proper maternity care."
The journey to a holistic experience begins with choosing the right doctor. St. Luke's Medical Center-Quezon City's Department of Obstetrics and Gynecology head, Dr. Marie Arlene Azada, stressed the value of consulting with a proficient doctor. "The path to the right and proper care begins with choosing the doctor who is highly trained and experienced to provide the best care plan for you and your baby," she said.
At St. Luke's Medical Center, there is a team of experienced physicians available to attend to the medical needs of expectant mothers and their babies. St. Luke's Obstetricians are highly trained to manage simple to complex or high-risk pregnancies and births. If the newborn would require intensive care, he/she would be taken care of by a St. Luke's Neonatalogist.
Apart from the medical expertise, expectant mothers should also have access to a wide range of maternity and pediatric services especially when their pregnancy is tagged as high-risk. According to Dr. Marinduque and Dr. Azada, "There should be a High-Risk Pregnancy Unit (HRPU) available for them. A Neonatal Intensive Care Unit (NICU) should also be readily available for newborns who need medical intensive care. All these are available at St. Luke's."
Strict safety measures
Equally important during this time of pandemic is the safety and protection of the mother and newborn. At St. Luke's, all doctors and staff are regularly monitored and tested for COVID-19 before attending to patients. Further, they are provided with a complete set of Personal Protective Equipment (PPE), including N-95 masks, coverall suits, and face shields, when interacting with patients.
Likewise, patients for admission and their companions are tested for COVID-19 prior to admission. Expectant mothers giving birth at St. Luke's are entitled to a free COVID-19 RT-PCR test before their scheduled day of delivery (not applicable for patients availing packages). Before entering the hospital, they are screened through the mandatory filling out of the hospital's Health Declaration Form.
To minimize transmission of the virus, St. Luke's has separated the entrances, floors, wards, and labor and delivery rooms for COVID and non-COVID patients. All these areas are thoroughly disinfected every hour and after every use.
Unique and convenient hospital experience
St. Luke's has come up with ways to provide complete and convenient maternity care while minimizing hospital contact. Expectant mothers can experience a hassle-free hospital admission as they are no longer required to queue for admission and they can get admitted directly to their rooms.

Three-course meal options for the Celebration Dinner for mommies who gave birth in St. Luke's.
St. Luke's understands that new mothers need all the support and care they deserve post delivery. To celebrate the joy of childbirth, mothers giving birth at St. Luke's are served with a special three-course meal. Additionally, they are given the exclusive St. Luke's Mom and Baby bag that consists of newborn essentials including I am a St. Luke's Baby apparel, mittens, socks, and bib.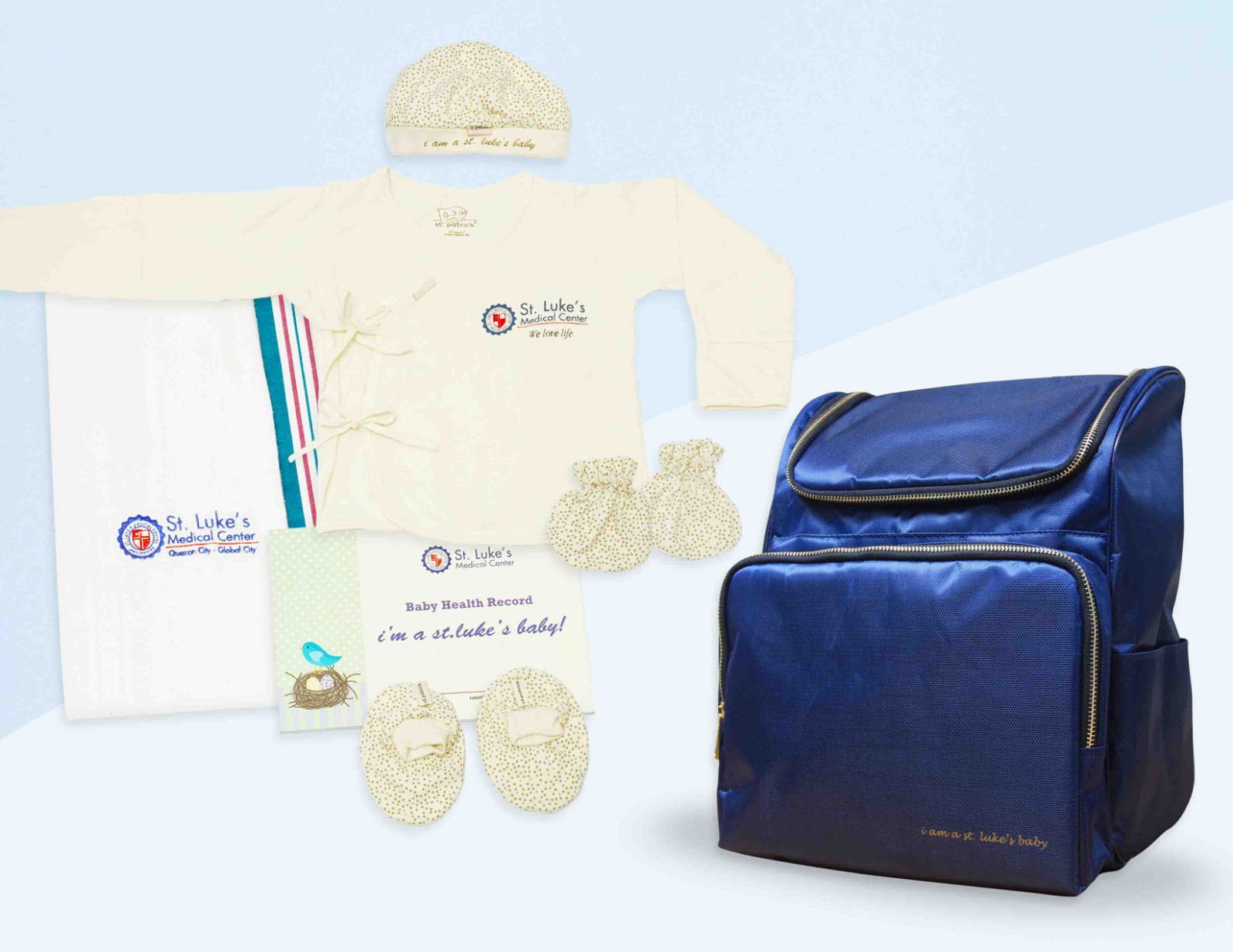 The St. Luke's Mom and Baby Bag comes with the I am a St. Luke's Baby apparel, mittens, socks, and bib.
When ready to go home, mothers and their companions can process the discharge papers without leaving the patient room. A Patient Care Navigator and a Billing Officer will help assist and facilitate the discharge inside the room.
For expectant mothers who wish to experience safe and quality delivery, St. Luke's Medical Center offers the Great Expectations Delivery Package. This includes the use of the delivery room, room and board accommodation, medicines and vitamins, newborn screening, hearing test, and professional fees. Price may range from PHP 80,000 to PHP 87,000 for normal delivery and PHP 137,000 to PHP 139,000 for cesarean delivery.
To know more about St. Luke's maternity services, you can call the Product Information Hub through the following:
St. Luke's Medical Center-Quezon City: (632) 8-723-0101 local 5564, 4815 or 0947-994-3550
St. Luke's Medical Center-Global City: (632) 8-789-7700 local 5104, 1050 or 0998-582-2276
---
St. Luke's Medical Center - Quezon City
279 E Rodriguez Sr. Ave,
Quezon City, Philippines
St. Luke's Medical Center - Global City
Rizal Drive cor. 32nd St. and 5th Ave
Taguig City, Philippines