Freedom from Pain and Finding Family in the Hospital: Atty. Peter Sgro's Heartwarming Story at St. Luke's Medical Center
Atty. Peter Sgro, a successful Guamanian business lawyer, endured years of persistent back pain until he found hope in the skilled hands of Dr. Mario Ver and Dr. Mikhail Ver, esteemed orthopedic and spine surgeons at St. Luke's Medical Center - Global City. Through minimally invasive procedures and cutting-edge technology, Peter's medical journey transformed his life, allowing him to break free from pain and discover an unexpected family at St. Luke's.
Before this medical trip to Manila, he had undergone two surgeries in Guam. "They helped a little bit, but the medical specialties available here are unmatched," he shared. Peter still had pain in the right side of his middle back, which radiates down to his right leg. This poses difficulties as he maintains an active role in his career as the president of the International Group, an organization that offers business acquisition and financial brokerage, among others.
Reflecting on his journey, Peter said that forty five minutes into his flight to Manila, pain started shooting down his back. Despite his efforts to manage the discomfort, the situation escalated, and within an hour, he had no choice but to make an emergency landing.
As soon as Peter's plane landed, he requested to be transferred to St. Luke's Emergency Care as quickly as possible.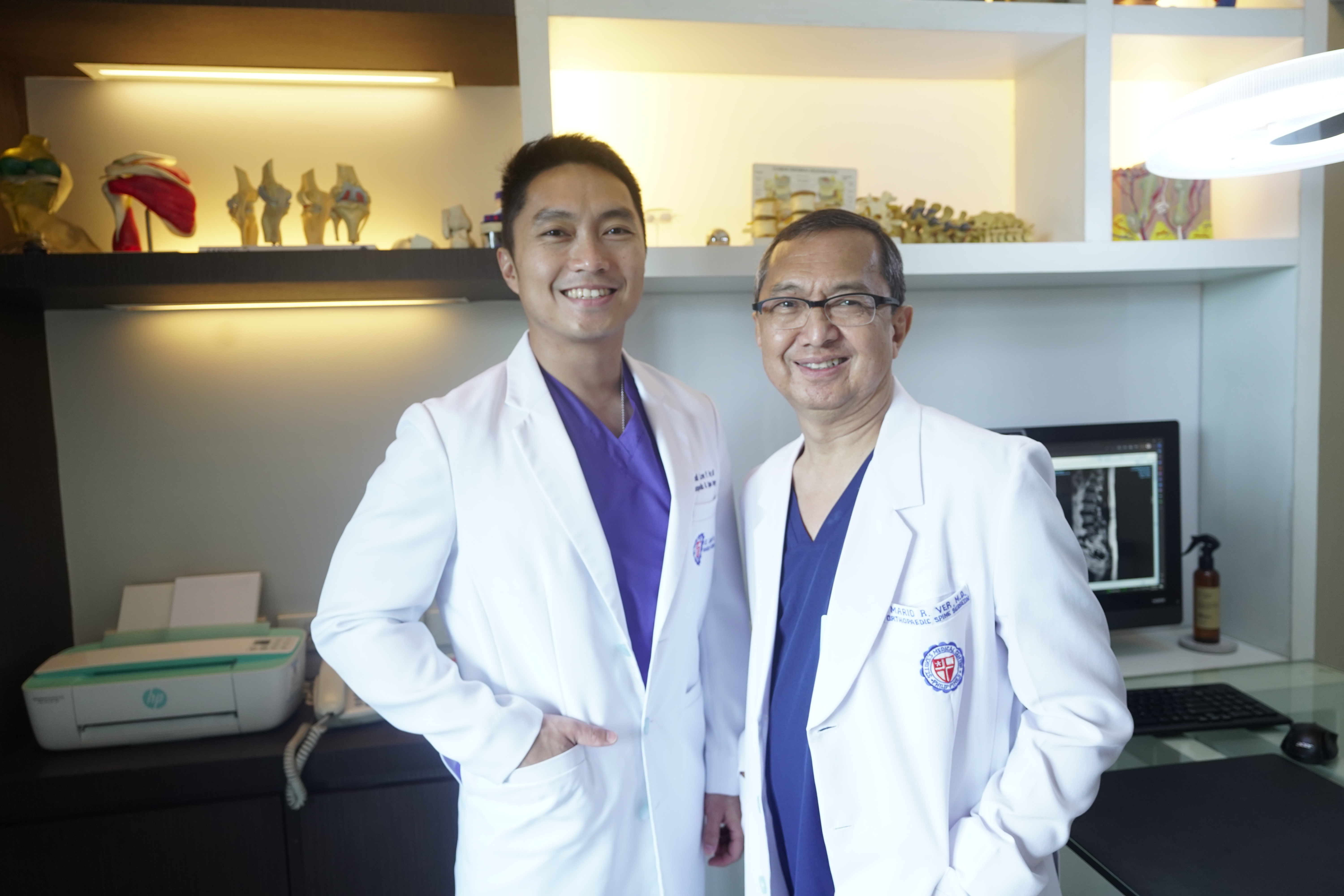 Dr. Mario Ver and Dr. Mikhail Ver devised a comprehensive plan to alleviate Peter's pain. The first part of the procedure involved Indirect Decompression, which addressed the remaining sections of his spine not decompressed in previous surgeries. This innovative approach freed the spinal cord and nerve roots, providing immediate relief. "I discovered that only one or two levels were addressed in previous treatments when there are actually 3 to 4 levels that needed to be treated," Dr. Mario Ver said.
The spinal column's primary role is to protect the spinal cord and nerve roots. In Peter's case, his spinal column compresses the spinal cord and the nerve roots, causing pain and weakness in the legs. Indirect Decompression frees the spinal cord and nerve roots by creating more space around them. "We are decompressing the nerves and the cord without touching it directly. Studies show that Indirect Decompression is not only safer to the cord and nerve roots but has a better outcome for a patient's pain relief immediately compared to Direct Decompression," Dr. Mario Ver said.
Complementing the Indirect Decompression, the second part of the procedure involved Percutaneous Pedicle Screw Fixation. Through advanced technology, surgeons skillfully inserted screws and rods into Peter's back to stabilize and support the spine during the healing process. "Even with open surgery, the implants aren't that easy to put on. But with the aid of technology and our experience, we were able to do it," he said.
St. Luke's Global City proudly employed the latest MRI-compatible implants, including PEEK cages and Titanium implants, making Peter's treatment a groundbreaking milestone in spinal care in the Philippines. Despite the complexity and high risk of complications due to previous surgeries, the expertise of the medical team ensured a successful outcome.
When asked to describe his overall experience being cared for at St. Luke's, Peter's eyes lit up. "The experience was incredible from the emergency room to the X-Ray room. I became friends with people from the MRI suite. I feel like the doctors and nurses, everybody practices your mission statement, which is providing a compassionate, patient-centered experience," he said.
He fondly recalls his experience with his admitting nurse, who also turned out to be his discharge nurse. "She was so happy to see me walking. She said, 'Sir, I'm so happy to see you walking'. She calls me her second father now."
Having been to many hospitals worldwide and helping build one in Guam, Sgro was particularly impressed by the care and support he received at St. Luke's. "I've never experienced something like this. I actually now have good friendships with several nurses at SLMC that I have had lunches and dinners with and have even gone to a gala with," he said.
Atty. Peter Sgro's heartwarming and inspiring journey at St. Luke's Medical Center encapsulates the transformative power of advanced medical treatments and the immense value of compassionate care. Liberated from pain and embraced by a caring family of medical professionals, Peter's experience showcases the remarkable achievements and innovative milestones achieved by St. Luke's in the field of spinal treatment. His profound appreciation for the hospital's mission and the strong bonds formed with the St. Luke's team exemplify the true essence of patient-centered care.
To know more about the treatments offered by St. Luke's Medical Center, please call St. Luke's Product Information Hub at 0919-057-7744, 0998-534-2768, 0928-520-0239, 0947-993-0471 (call), 0919-160-7744 (text), or email [email protected].
---
St. Luke's Medical Center - Quezon City
279 E Rodriguez Sr. Ave,
Quezon City, Philippines
St. Luke's Medical Center - Global City
Rizal Drive cor. 32nd St. and 5th Ave
Taguig City, Philippines