FIGHTING COVID-19: AVAILABLE SERVICES AT ST. LUKE'S
DRIVE-THRU COVID-19 RT-PCR SWAB TEST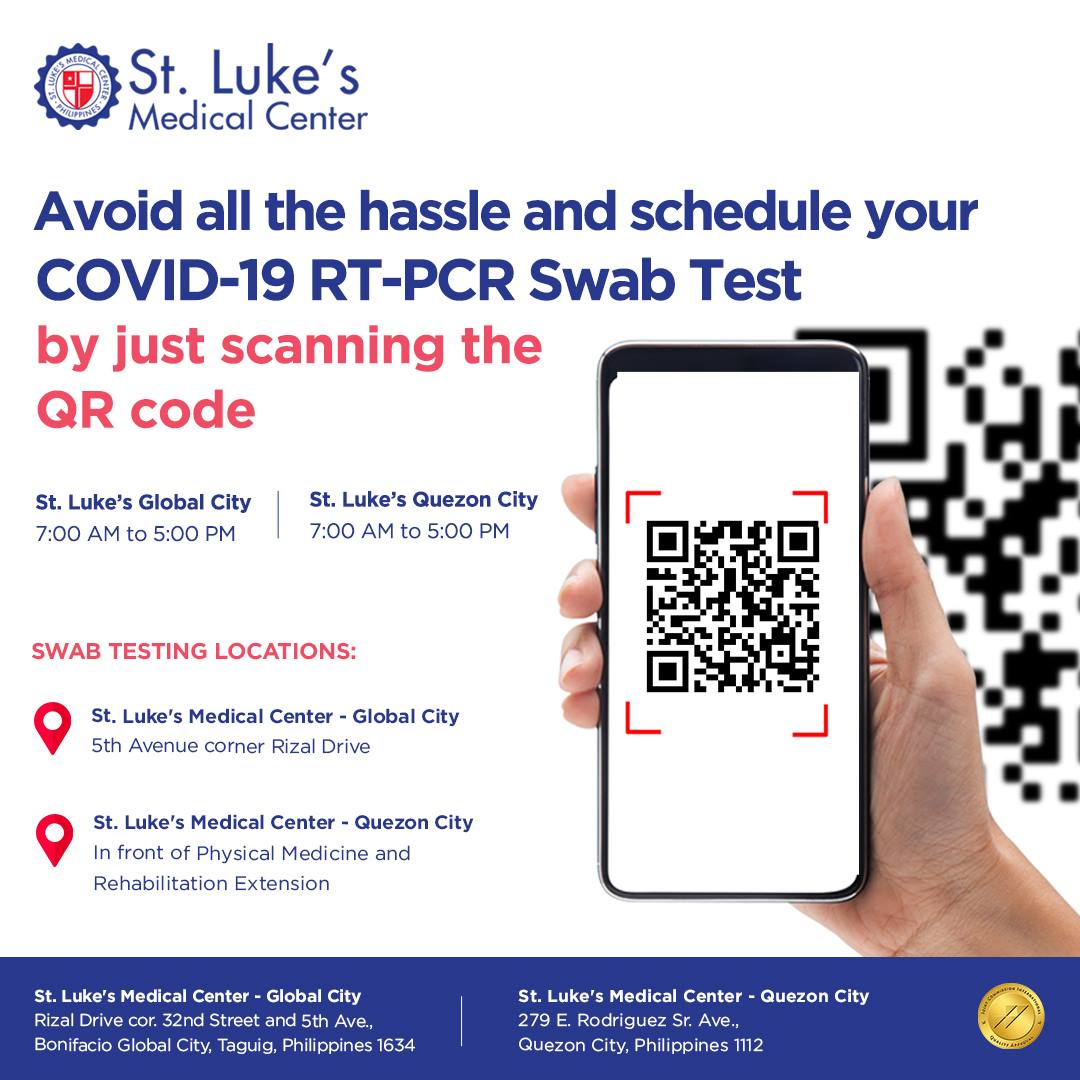 St. Luke's Medical Center offers drive-thru swab testing services for ASYMPTOMATIC patients. Patients may scan the QR code and schedule an appointment online. For patients exhibiting symptoms of COVID-19 (coughs, fevers, loss of taste), please proceed to the Emergency Room to receive an immediate RT-PCR Swab test.

Swab test results will be available 24-48 hours via St. Luke's eHealth Hub.

COVID-19 TELECONSULT (FOR KIDS AND ADULTS)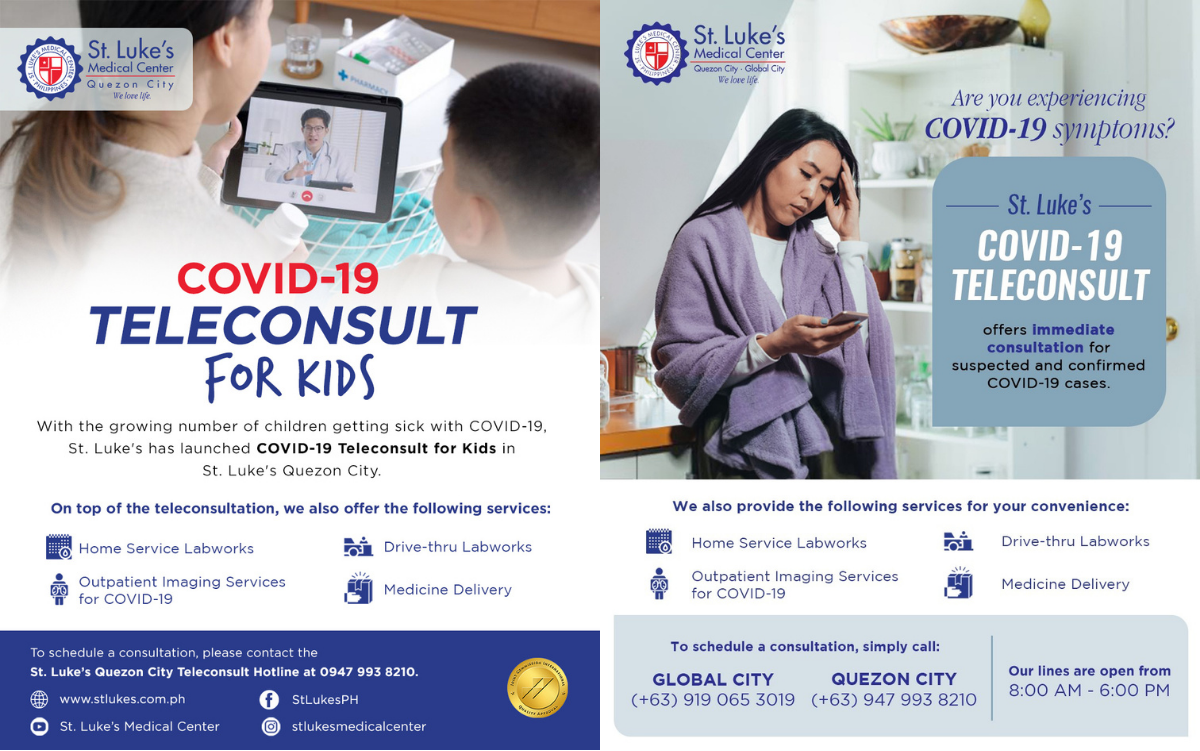 St. Luke's Medical Center offers COVID-19 Teleconsult for suspected and confirmed COVID-19 cases, available for both adults (SLMC-Quezon City and Global City) and children (Quezon City only). For the patient's convenience, we also offer home service and drive-thru labworks, outpatient imaging services and medicine delivery.

To schedule a consultation, please contact the following numbers indicated above.

EXPRESS LAB
St. Luke's Express Lab offers home service and drive-thru blood works for patients to remove the need of a hospital visit. Patients may contact the numbers indicated above to book an appointment.

DRIVE-THRU VACCINATION FOR PEDIA AND ADULTS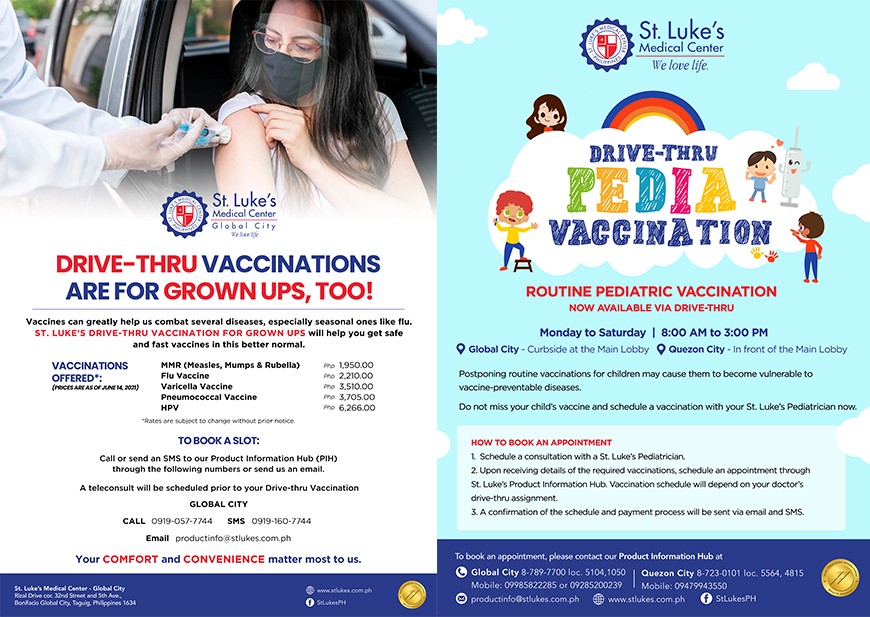 Both children and adults need to receive their routine pedia vaccination to prevent infections and other diseases, most especially during a pandemic.

To make sure you and your children's vaccinations are on track, St. Luke's offers routine pediatric drive-thru vaccinations (SLMC-Quezon City and Global City) as well as drive-thru vaccination for adults (Global City). Kindly call St. Luke's Product Information Hub through the numbers above to book an appointment.

IMPORTANT NOTE: COVID-19 vaccines are not available.
---
St. Luke's Medical Center - Global City
Rizal Drive cor. 32nd St. and 5th Ave
Taguig City, Philippines