Delivering Exceptional Maternal Care On Your Motherhood Journey
Giving birth is a precious moment and an exciting journey for mothers. St. Luke's Medical Center (SLMC) provides comprehensive maternity care services to guarantee exceptional care for mothers and newborns.
Our multidisciplinary team of experts provides holistic maternity care coupled with the availability of a complete array of healthcare services, which are crucial for monitoring the growth and development of babies and the overall well-being of mommies.
As part of the hospital's initiative to provide its patients with everything they need for a worry-free childbirth experience, expectant mothers who give birth at St. Luke's from February 1 to December 31, 2023, will be treated with complimentary room accommodation. This way, they can have a relaxing environment during their hospital stay.
Various freebies are also awaiting mommies and babies. A night prior to hospital discharge, a special three-course celebratory dinner will be served for mothers while an exclusive "I am a St. Luke's Baby" outfit will be provided for babies. An "Eco-friendly Mom and Baby" bag will also be given, complete with newborn essentials.
Travel System Baby Stroller and Baby Carrier will be given upon discharge as St. Luke's special gift to the new parents and their little bundle of joy.
On top of that, free lactation counseling is offered to guide mothers in proper breastfeeding. This counseling is designed to take patients, particularly first-time moms, through the fundamentals of breastfeeding and how to give the best nourishment to their babies.
"At St. Luke's, we are driven to provide a safe, compassionate, and comfortable environment for our patients by providing exceptional maternity care services. We want to make this important milestone in their lives memorable," said SLMC-Global City's Department of Obstetrics and Gynecology head, Dr. Catherine Lim.
"Our holistic approach under the St Luke's maternity care campaign makes our patients' journey to parenthood easier," SLMC-Quezon City's Department of Obstetrics and Gynecology head, Dr. Marie Arlene Azada, added.
To know more about this promo, patients may contact St. Luke's Product Information Hub at 0919-057-7744 (call), 0919-160-7744 (text), or email [email protected]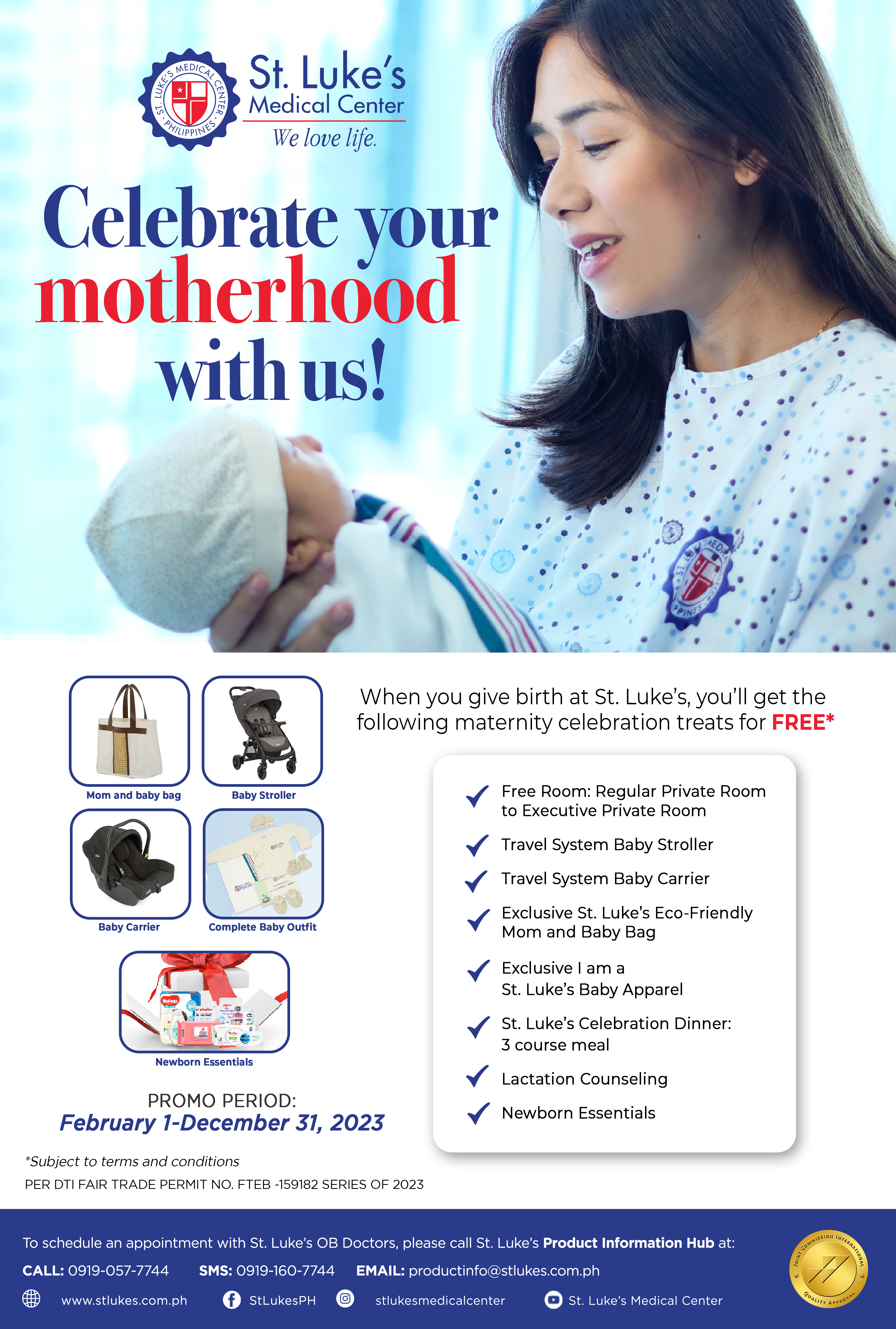 ---
St. Luke's Medical Center - Quezon City
279 E Rodriguez Sr. Ave,
Quezon City, Philippines
St. Luke's Medical Center - Global City
Rizal Drive cor. 32nd St. and 5th Ave
Taguig City, Philippines