A bundle of joy: St. Luke's offers free room upgrade and more for expectant mothers
To help expectant mothers cope with the challenges brought by the COVID-19 pandemic, St. Luke's Medical Center (SLMC) is providing a free room upgrade on top of other maternity care benefits from June 14 to July 31, 2021.
The room upgrade promo is part of St. Luke's recently launched service, Patient's Journey — the hospital's redefined patient care management system. Patient's Journey is a holistic initiative that focuses on premium patient experience, covering maternity care as well.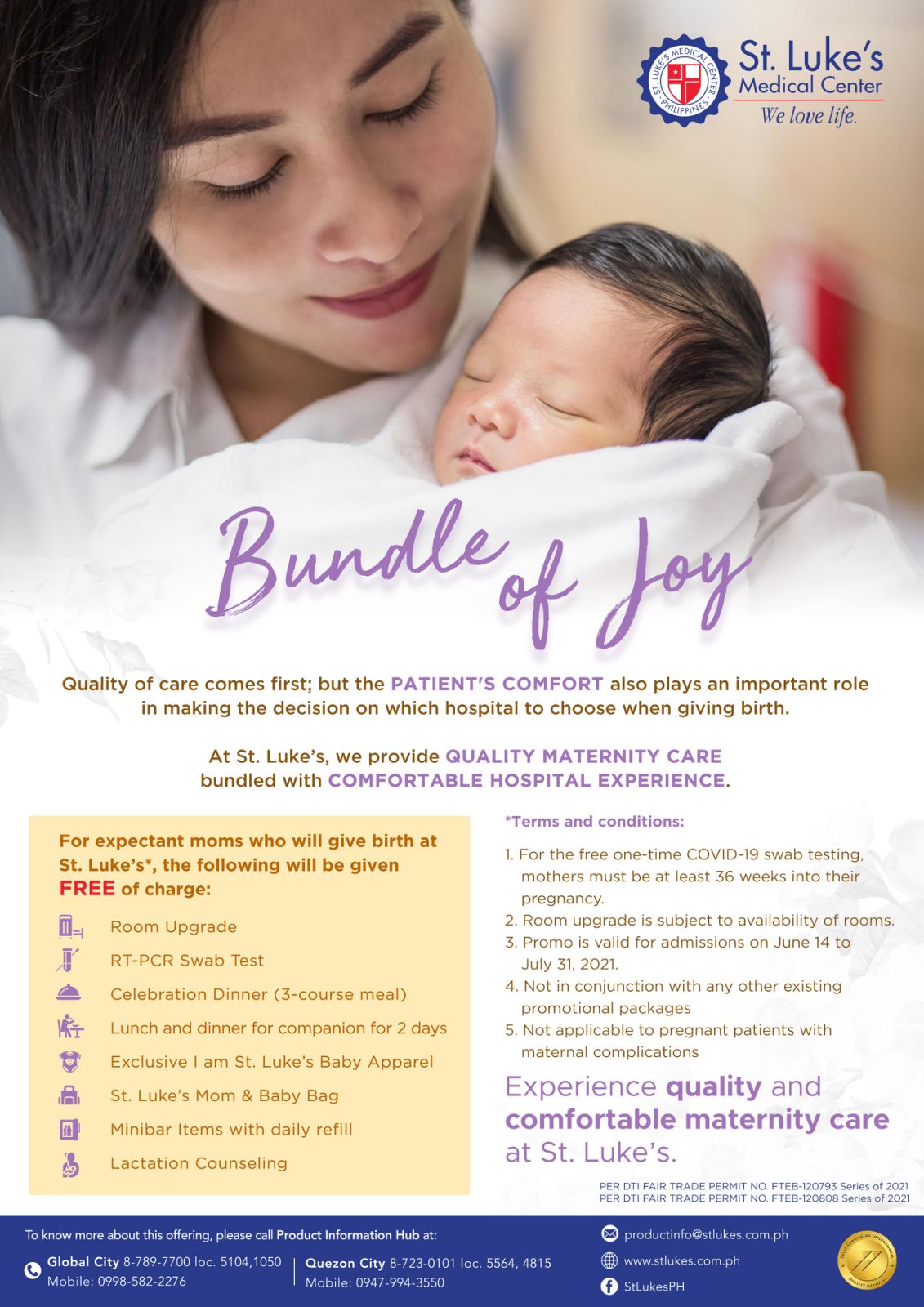 FREE ROOM UPGRADE FOR MAXIMUM COMFORT
Because of the nature of childbirth, St. Luke's greatly puts emphasis on quality service and superior comfort for expecting mothers — especially in a time of a pandemic.
By providing a free room upgrade, St. Luke's aims to elevate the comfort provided to expecting mothers without any charge, championing a safe and relaxing environment for maternity care.
The free room upgrade will include four types of rooms available in St. Luke's — particularly the Semi-Private, Regular Private, Deluxe Private, and Executive Private rooms. This means that if an expecting mother will get a Regular Private room, she will be entitled to have it upgraded to a Deluxe Private room subject to its availability.
In addition to the upgrade, St. Luke's will also provide a daily refill of the room's minibar that is free of charge.

MATERNITY CARE BENEFITS AT ST. LUKE'S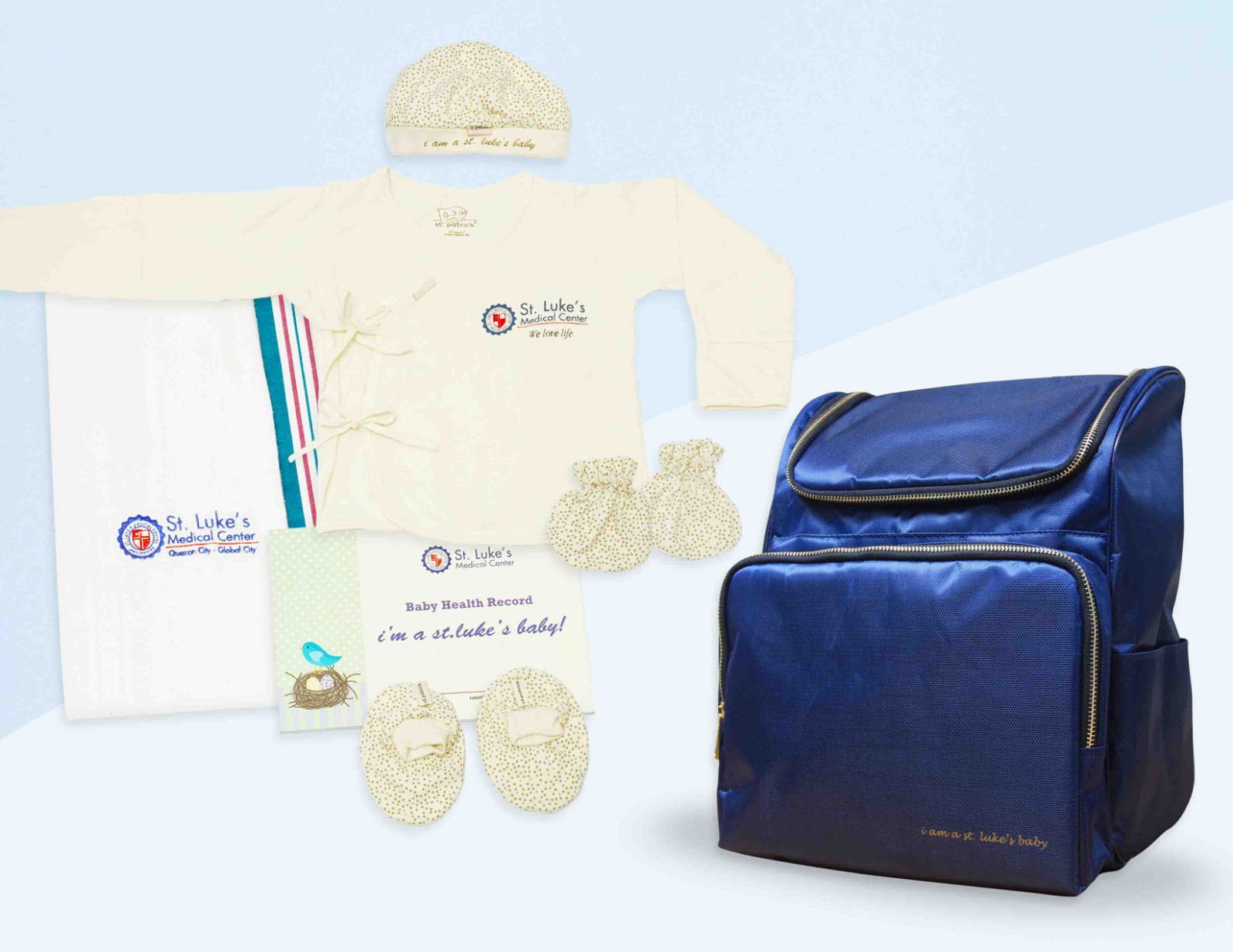 A Mom and Baby Bag will be given to moms after giving birth.
Apart from the room upgrade, St. Luke's will also provide several freebies under its maternity care package. Expectant mothers who are at least 36 weeks into their labor will be entitled to a free COVID-19 RT-PCR swab test to ensure their safety and well-being before delivery.
Upon giving birth, a special three-course dinner will be served to celebrate the successful delivery of the newborn baby. Their companions will also receive free lunch and dinner meals for two days. Besides the free meals, moms will also receive a free "I am a St. Luke's Baby" apparel for their child along with a limited edition "Mom and Baby" bag. The bag is a high quality backpack that contains newborn essentials.

To add up, free lactation counselling service will also be made available. This free service is part of St. Luke's advocacy in championing proper breastfeeding and the use of natural breastmilk for newborn babies. The counselling will greatly help mothers — especially first-timers, in providing proper nutrition to their baby.

Giving birth is a monumental experience for mothers, whether it's their first time or not.
While quality patient care always comes first, St. Luke's also puts great emphasis on the comfort it provides to expectant mothers as childbirth can become stressful without a good and supportive environment.

To know more about St. Luke's free maternity room upgrade promo and its maternity services, please contact the Product Information Hub through the following:

St. Luke's Medical Center-Quezon City: (632) 8-723-0101 local 5564, 4815 or 0947-994-3550
St. Luke's Medical Center-Global City: (632) 8-789-7700 local 5104, 1050 or 0998-582-2276
---
St. Luke's Medical Center - Global City
Rizal Drive cor. 32nd St. and 5th Ave
Taguig City, Philippines