St. Luke's Celebrates Brave Hearts on its 118th Anniversary
On its 118th Anniversary, St. Luke's Medical Center (SLMC) honors those who have shown exemplary bravery and leadership amid the continuous surge of the COVID-19 pandemic.
When the country first went into lockdown last March 2020, no one anticipated the pandemic to surge into the latter months of 2021 — with no clear end in sight.
While the world carefully veers into COVID-19 statistics, other patients in need of critical and comprehensive care are often overlooked. Cancer patients, stroke patients, the elderly, the immunocompromised, and the children are among the groups who needed immediate attention besides the growing number of COVID patients.
Maintaining world-class patient care for COVID and non-COVID patients alike is the challenge that SLMC has faced these past 21 months. And amid this seemingly insurmountable challenge, its doctors and nurses have stood strong, shining as they deliver empathetic patient care.

While St. Luke's Medical Center recently gave recognition to its nurses and other frontliners on Nurses Day and National Heroes Day, respectively, on its 118th Anniversary, St. Luke's recognizes its doctors for their exemplary service, leadership, and excellence in this time of crisis. Through the Brave Hearts Award for doctors, SLMC honors the physicians who have heeded the call to provide empathetic patient care and strong leadership in a time of uncertainty.
The awardees of Global City, (L-R): Dr. Rowena Ejercito-De Jesus, Dr. Bernabe Marinduque, Dr. Sue Locnen, Dr. Suzanne Santos, Dr. William Lim, Dr. Mae Ang, Dr. Guinevere Agra, Dr. Ruth Divinagracia, Dr. Carmenchu Villavicencio, Dr. Pia Edejer, Dr. Christine Nazareno, and Dr. Edren Santos
"The Brave Hearts Award is a symbol of courage, determination, and excellence. It is an award given to outstanding doctors who have left an indelible mark in our hospital for their excellence both as doctors and as leaders," said Dr. Arturo S. De La Peña, SLMC President and CEO.
Several consultants and residents from St. Luke's Quezon City and Global City were awarded with the recognition. Through a voting poll, doctors from both hospitals were given a chance to nominate their choice for the award. A selection committee then reviewed the nominations and selected the awardees.

Among the doctors recognized were those from the institutes and departments heavily impacted by the pandemic. Doctors from St. Luke's Institute of Pulmonary Medicine, for example, continue to face the glaring challenges of alleviating the respiratory infections brought about by the virus.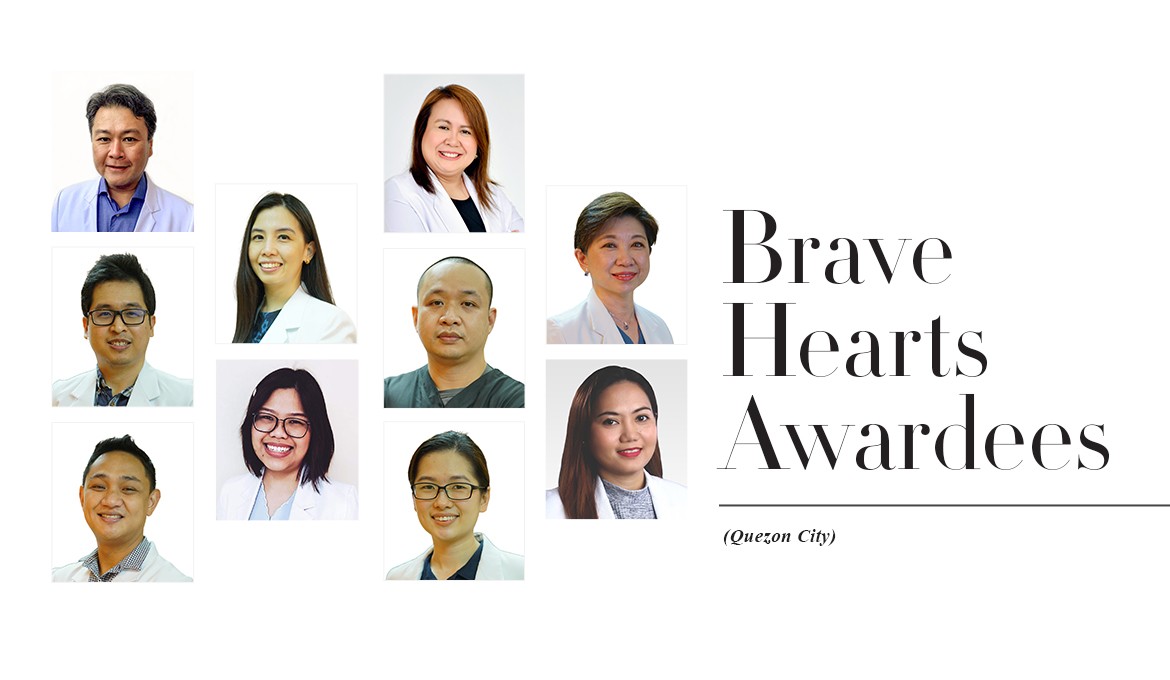 The awardees from St. Luke's Quezon City, (L-R): Dr. Ricardo Boncan, Dr. Marie Arlene Azada, Dr. James Andrew Bollozos, Dr. Alex Matic, Dr. Conrad Estanislao, Dr. Mary Beth Tanco, Dr. Rod Castro, Dr. Jansil Amit, Dr. Rosalee Evangelista-Gonzales, and Dr. Rioloida Diola
Doctors from the Infection Control Service (ICS) were also awarded. The ICS is the hospital's servicing unit responsible for its internal vaccination roll-out. It also serves as the hospital's think tank for all COVID and other infectious diseases information.
Beyond the departments servicing COVID-related matters, SLMC also awarded doctors from the departments constantly relied on by patients due to the scope of their service. These include the Institute of Surgery, the Department of Obstetrics and Gynecology (OB-GYNE), and the Department of Otorhinolaryngology - Head and Neck Surgery (ENT-HNS).
"Amid this health crisis, many of our doctors innovated their department's or center's policies to ensure safe and seamless delivery of our hospital services, for the benefit of our patients. This is vital, because both outpatient and inpatient medical care should never be delayed even during a pandemic," said Dr. Dela Peña.

By honoring its bravest doctors, healthcare workers, and frontliners, St. Luke's strives to continue to inspire the public, to remind them that not all hope is lost in the country's long fight against COVID-19. The hospital, through its brave-hearted doctors, its heroic nurses, and its dedicated frontliners, continues to remain firm on its oath: to save lives — to love life.
Besides honoring its doctors, the hospital also provided food baskets and cash incentives to all of its employees and nurses on its anniversary. The food basket contains items that can be shared with their families such as frozen meats, pasta ingredients, and beverages. The employees also got the chance to win Lenovo tablets and cash prizes.
St. Luke's 118th anniversary was celebrated from October 18 - 22, 2021.
---
St. Luke's Medical Center - Quezon City
279 E Rodriguez Sr. Ave,
Quezon City, Philippines
St. Luke's Medical Center - Global City
Rizal Drive cor. 32nd St. and 5th Ave
Taguig City, Philippines