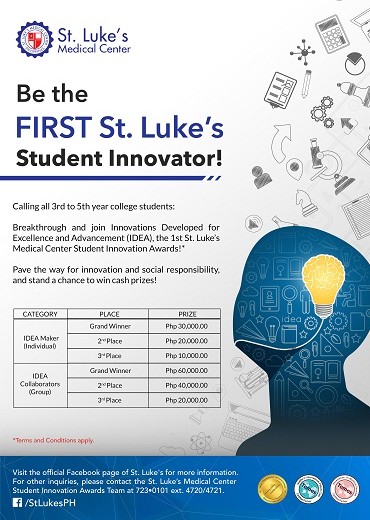 Student Innovation Awards
St. Luke's Medical Center
Student Innovation Awards Team
(02) 723-0101 ext. 4720 / 4721
DOWNLOAD PROGRAM INFO
Submission of entries: September 7 - October 21, 2018
St. Luke's Medical Center is looking for Innovative breakthroughs in the areas of medicine, technological advancements, or healthcare solutions. With our corporate strategy, "Innovation in Healthcare," we seek opportunities to continuously improve our work, and to maintain the highest standards of patient care and service delivery.
We advocate the continuous discovery of new ways by which we can deliver excellent service. We believe that this can be achieved by fostering partnerships with schools nationwide, empowering students, and recognizing and sharing talents. Through the first ever St. Luke's Student Innovation Awards, we aim to reach out to college students nationwide, who are passionate about creating healthcare solutions that target excellent quality and patient safety. Furthermore, this promotes one of our values

—Social Responsibility—as we live up to the commitment of extending our healthcare expertise in social service, community health, and environmental safety.
---