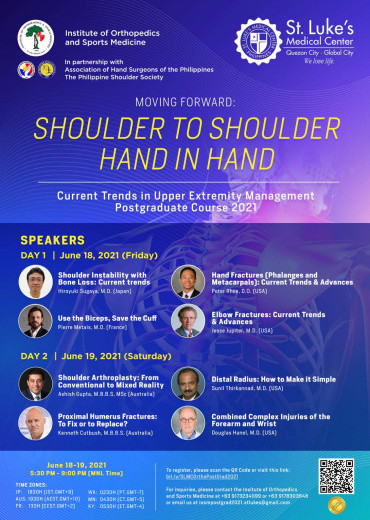 MOVING FORWARD: Shoulder To Shoulder Hand In Hand
Current Trends in Upper Extremity Management
Postgraduate Course 2021
Institute of Orthopedics and Sports Medicine
09173234099
09178303648
REGISTER
St. Luke's Institute of Orthopedics and Sports Medicine will host its annual postgraduate course entitled, "Moving Forward: Shoulder-to-Shoulder, Hand-in-Hand Current Trends in Upper Extremity Management."

This course will feature distinguished speakers from around the world such as the United States, France, Australia, and Japan. The speakers are renowned doctors who are experts in the treatment and management of upper extremity injuries — the main focus of the event.

The guest speakers will tackle various topics such as shoulder instability, hand fractures, and wrist injuries to name a few. The postgraduate course is in partnership with the Association of Hand Surgeons of the Philippines and The Philippine Shoulder Society.
---