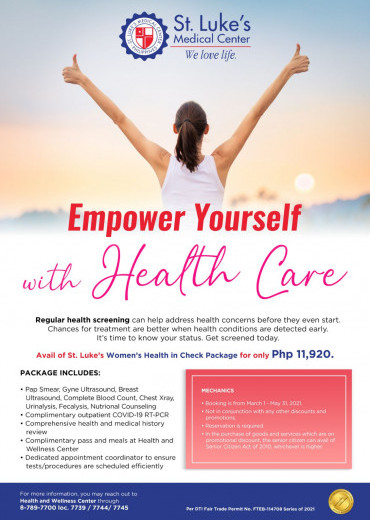 Empower Yourself With Health Care
Avail of St. Luke's Women's Health in Check Package for only Php 11,920.
Health and Wellness Center - St. Luke's Medical Center Global City
8-789-7700 loc. 7739/7744/7745
Regular health screening can help address health concerns before they even start. Chances for treatment are better when health conditions are detected early. It's time to know your status. Get screened today.
PACKAGE INCLUDES:
Pap Smear, Gyne Ultrasound, Breast Ultrasound, Complete Blood Count, Chest Xray, Urinalysis, Fecalysis, Nutritional Counseling
Complimentary outpatient COVID-19 RT-PCR
Comprehensive health and medical history review
Complimentary pass and meals at Health and Wellness Center
Dedicated appointment coordinator to ensure tests/procedures are scheduled efficiently.
Promo runs from March 1 to May 31, 2021.
Per DTI Fair Trade Permit No. FTEB-114708 Series of 2021
---