Giving children with thalassemia another chance at life
Parents always wish for their children to grow up and lead healthy lives. After all, being healthy makes it easier for children to live their lives to the fullest. However, there are certain cases wherein it's neither the parent's nor the child's fault that the latter gets sick with a disease that is so difficult to cure.
An example of this is thalassemia, a disease that causes the body to have less hemoglobin than usual. Children who have this disease usually have anemia when they grow up, meaning their body organs do not receive enough oxygen.
Thalassemia brings severe damage to a child's body, with symptoms including abdominal swelling, facial deformities, and stunted growth. Fortunately, advancements in medicine throughout the years have given parents a fighting chance to ensure their children will no longer face the life-long consequences of this disease.
Today, patients could undergo bone marrow / hematopoietic stem cell transplant, explains Dr. Francisco Lopez, Head of Blood & Marrow Transplant Service at St. Luke's Medical Center-Global City. There are mainly two types for these transplants: autologous, wherein stem cells are taken from the patient himself/herself and given back to him/her after intensive treatment; and allogeneic, wherein the donor shares the same genes as the patient. There is also the umbilical cord blood transplant, wherein stem cells are obtained from the umbilical cord after the infant's birth.
"However, there are challenges for these types of bone marrow transplants. For one, if the donor is a sibling, then there is only a 25%-30% chance that the donor will be a match for the patient," Dr. Lopez said. "If there are no donors who are a match for the patient, then the patient either needs an umbilical cord or a bone marrow from a donor bank abroad and have it shipped here. This is very expensive given it can cost as much as $30,000."
Despite these difficulties, there has been progress in terms of how bone marrow transplants can be carried out, according to Dr. Lopez. "We can now carry out transplants which are called haploidentical transplants. Under this, the donor no longer needs to be a 100% match to the patient in order to donate the bone marrow. The main advantage of this kind of transplant is that there are significantly more possible donors to a patient, which include their family members. Thus, a recipient can find a donor within a family 95% of the time."
Dr. Lopez, together with Doctors Allan Racho and Loralyn Arañas, previously worked on a bone marrow transplant for a five-year old patient. "The child had thalassemia major from his birth, which is the most severe form of thalassemia. Children who have this disease need to undergo regular blood transfusions as young as four to six months old," Dr. Racho, a pediatric oncologist at St. Luke's, said.
"However, there are risks that come with regular blood transfusions. For one, there would be too much iron that would enter a child's body and end up in various body organs. For example, too much iron in the heart could lead to heart failure," Dr. Racho said.
"When we conducted the haploidentical transplant on him, we converted him to a thalassemia minor patient from a thalassemia major patient," Dr. Arañas, a pediatric hematologist and transplant specialist at St. Luke's, said. Thalassemia minor is the less severe form of the disease, thus symptoms are more manageable.
That child is Jose Raphael Santos. His mother, Normie, is a witness to how her son was saved by a haploidentical bone marrow transplant. "After the bone marrow transplant, our son already stopped being transfused with blood and he maintained the hemoglobin level similar to [my] hemoglobin level [as I am] the donor of the bone marrow. The procedure was a success," she said.
Raphael is also doing well now, even if as of this time he is not yet allowed to do strenuous activities. "Our son is visibly recovering and his hair is growing back now. We are looking forward [to the fact] that he will be able to do the things he was not allowed to do before the transplant," Normie said.
Raphael is one of the thalassemia patients who has benefited from St. Luke's medical expertise. The hospital has conducted 114 bone marrow transplants to patients since 2010, of which 41 are autologous and 73 are allogeneic. St. Luke's has also conducted mismatched transplants, under which donors are not a 100% match for patients, since 2013. Of these transplants, 70% were haploidentical transplants.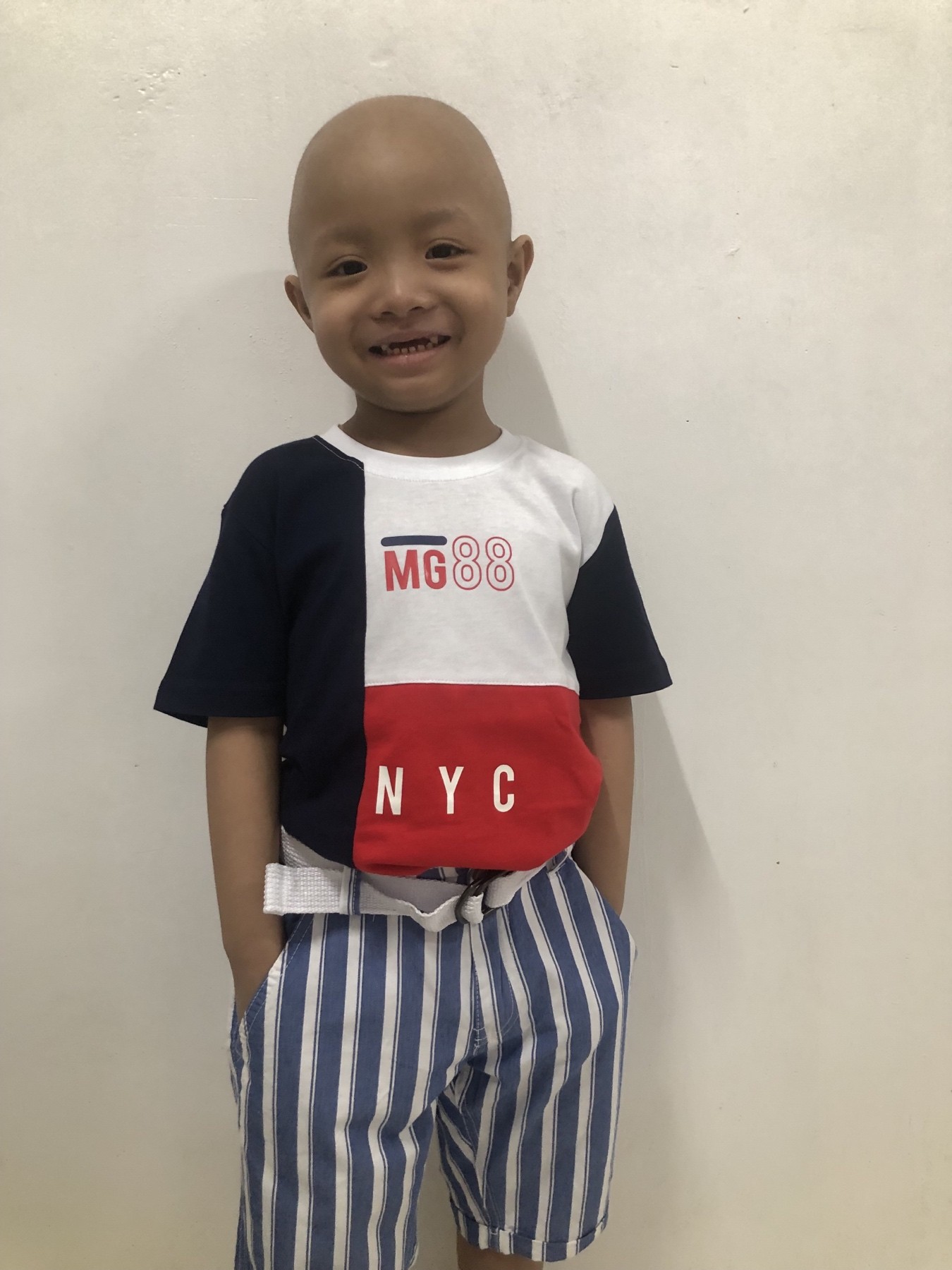 Thalassemia patient Raphael weeks after his bone marrow transplant
Normie and her family are also thankful to Doctors Racho, Arañas, and Lopez for doing their best during the procedure and treating the child as their own. "For us, this was the most important thing. We knew for a fact that anything may happen during the transplant but it certainly helps when you see the doctors' concern over their patients," she said.
With St. Luke's, thalassemia patients no longer need to believe that their ailment will be a lifelong one. So, what do parents need to do to prepare their children for a haploidentical transplant? Normie has advice for them.
"It is very crucial to plan ahead. We tried our best to be open with [our] children about their physical condition and told them what to expect. Even before the transplant, we have continuously discussed with them the expected benefits of the procedure," she said.
"At first, there was hesitation on the part of our son until he accepted it on his own. We prayed for it every night and we surrendered everything to God," she concluded.
---
St. Luke's Medical Center - Quezon City
279 E Rodriguez Sr. Ave,
Quezon City, Philippines
St. Luke's Medical Center - Global City
Rizal Drive cor. 32nd St. and 5th Ave
Taguig City, Philippines