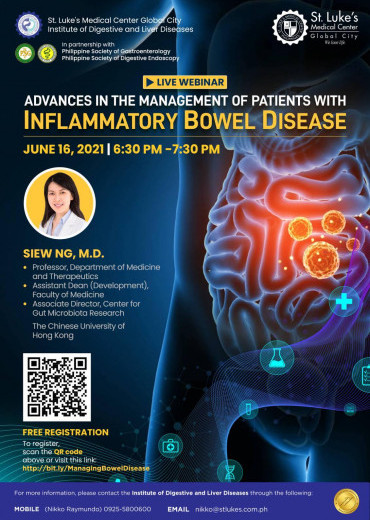 Advances In The Management Of Patients With Inflammatory Bowel Disease
Institute of Digestive and Liver Diseases:
Nikko Raymundo: 09255800600 | [email protected]
REGISTER
St. Luke's Global City's Institute of Digestive and Liver Diseases in partnership with the Philippine Society of Gastroenterology and Philippine Society of Digestive Endoscopy will be hosting a live webinar entitled "Advances in the Management of Patients with Inflammatory Bowel Disease" on June 16, 2021.
The webinar will be led by Prof. Siew Ng, a Gastroenterologist and professor at the Chinese University of Hong Kong. She will discuss various innovations in the management of inflammatory bowel disease.
---